Pasta & Cheese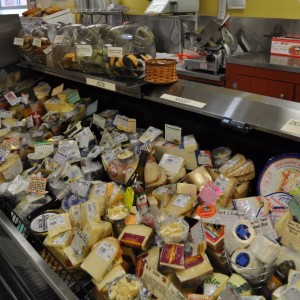 Our homemade fresh pasta is available in traditional egg as well as additional flavors to liven up your dinner.  Fresh pasta is available in sheets that can be used for lasagna or making other pasta creations, or can be fresh cut for you in widths ranging from vermicelli to fettuccini.  We also carry a large variety of imported dried pasta as well as gluten free pasta to help you make that special pasta dish.  Angela's homemade meat, marinara, or alfredo sauce make the perfect accompaniment to any pasta.  In addition, we carry fresh pesto made locally in New Hampshire as well as a variety of jarred and frozen sauces.
What would pasta be without the occasional meatball or sausage?  Try our own homemade meatballs as well as our homemade sweet and hot sausage.  Meatballs and sausages are available already cooked in our deli case.  Sweet and hot sausage are also available packaged fresh or frozen.
Whether you buy a whole piece and grate it at home or have us grate it to order for you, some parmesan or romano cheeses from our cheese case are a perfect topping for your meal.  And that is just the beginning of our award winning cheese selection.
Whether you prefer cow, sheep, or goat milk; raw milk or pasteurized; hard or soft; we have an extensive variety of cheeses to satisfy any palate.   Our cheese selection features many of the great cheeses from the most renowned areas of the globe and a few that may surprise you.   Each month Angela's "cheese of the month" is carefully selected to complement seasonal foods or celebrations.  Many cheeses are available for sampling to help you select the ones that are perfect for your needs.  Not sure what cheese to get?  Our staff has been around cheese for many years and will be glad to assist you with making the right choice.
Cheese with some crackers makes a nice starter for any meal or a great party food, but adding a few meats and condiments to the tray creates a unique experience.  Angela's offers a variety of cut to order Italian meats from prosciutto to salamis, Spanish and French hams, and domestic meats in out deli.   Dress up your appetizer with a variety of olives, peppers, tomatoes, or cornichons; or perhaps you prefer to add some pate or fruit paste.   Whatever your preference, Angela's can help make eating cheese a memorable experience.
If you require larger portions or don't have the time to prepare your own, Angela's offers antipasto and cheese& fruit platters.